"If you don't know where you are going, any road will get you there."
~ Lewis Carroll
Money helps us achieve the things we want in our life.  No revelation there.
Defining what we really want in our life though is not so simple.
If you were asked about your desired future, would you have an answer?  Can you describe it in detail?
To help answer the question:
"What's the money for?"
we have begun to incorporate a tool into our annual review meetings with clients, to help give this question greater thought and trigger a deeper discussion.
The tool to which I am referring is known as the "Wheel of Life".
Taking a pause from their busy lives, we are now asking our clients to think about their general level of life satisfaction across the nine facets on this Wheel of Life.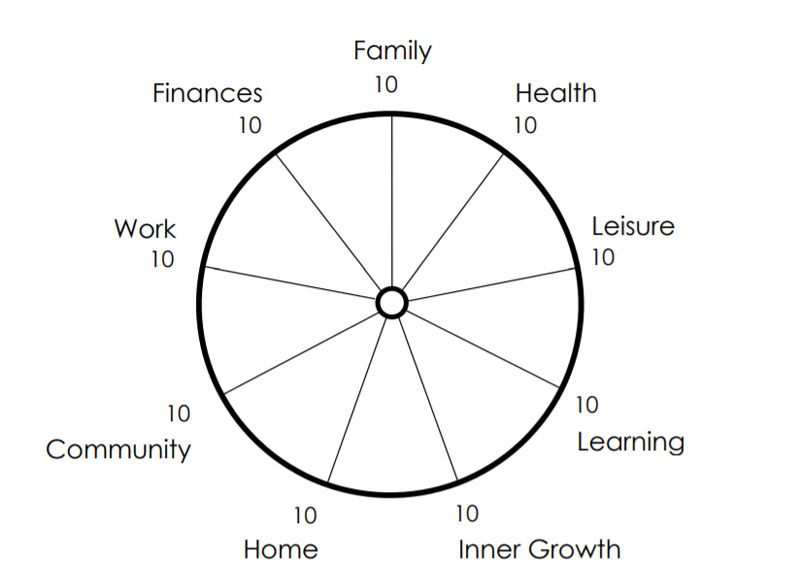 In a previous blog post, we talked about measuring progress over time on a Household Balance Sheet.  It goes without saying that measuring improvement in net wealth is fundamental to the financial planning process.  But there is something more profound about this than just taking stock of one's finances.
Feeling a sense of progress is an innate desire for us all as human beings.
Now stop and take a moment to read that again.
We weigh ourselves, time ourselves and measure ourselves because measuring our progress is part of the human condition.
For further proof, take a moment to watch this video by self-described wizard-rogue Dr Jason Fox as he discusses game design, progress and feedback.  If you're haven't got the whole 6½ minutes to spare, skip forward to 4:22.
So, measuring progress is important to us all.
What we know as your financial planners here in Perth, is that we are in the unique position of knowing the full picture of our client's lives.
Friends know what is important to you, your doctor knows about your health, your accountant knows about your financial position, but your financial planner knows all three.
In this context, we design a financial plan to meet our clients' aspirations.  And to meet that innate desire for progress in all of us, we measure how things change over time.
Having completed the wheel of life myself, I have come to think of it not as a wheel but as a tree, looking at it from a top-down view.  In a tree with a full and broad canopy, I see a metaphor of a life well-lived.
The tree began as a seed and needed:
Fertile soil or

healthy

ground on which to grow

Water – the

currency

of all life, the essential liquid asset, and

Sunlight –

energy and warmth

.
and then
Time for the growth to compound, think

compound interest

Deep roots to keep the tree upright against the elements, think

relationships

, and

An incredibly strong trunk to support the canopy, think

trust

, upon which everything rests.
Deep roots, a strong trunk and a full and flourishing canopy.  A metaphor for a rich and fulfilling life.
If you prefer, we'll be happy to provide you with more insights on managing your finances. Feel free to call HPH Solutions, your trusted financial advisors in Perth.