They say you can't manage what you can't measure. This is why we send a survey to each of our clients every year that is effectively a way for them to give us a performance review. 
This performance review gives us meaningful data about how we're measuring up to our internal goals and values with regard to service delivery. It also benchmarks our advisors against advisors around Australia, as well as in New Zealand, Canada, UK and the US.
In the next week, we'll be sending out the 2021 survey. But before we do that, we wanted to let you know some of the key findings from the 2020 survey.
Expectations of annual stock market returns
When asked, "What is your current expectation of annual returns for the stock market over the next 12 months?", the vast majority of respondents (72%) were in the 0% to 10% range.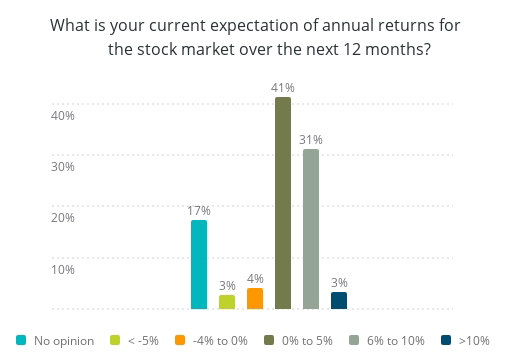 We thought it might interest you to know that the S&P ASX200 posted a return of 28.49% for the most recent 12-month period. 
And while this is an 'overperformance' compared to the expectations of our clients, an expected return of up to 10% is consistent with what we'd expect from the market in the long term. And indeed, the S&P ASX200 has seen a return of 9.26% over the last 10 years.
Main takeaway: It's always best to maintain a reasonable expectation of the market over the long term, and not get too attached to expectations in the short term (as no one can really predict what will happen in the short term).
Personal finance – what's your greatest fear?
When asked to rate their greatest personal finance fear out of the following items:
Losing my job

Outliving my money

Incurring unforeseen expenses (e.g. medical)

Not having enough money to live comfortably in retirement

Passing along assets to heirs who will not use them wisely

Experiencing a significant investment loss in a market downturn
HPH clients were in line with the other 16,000+ clients that were surveyed. Their greatest fear was 'Not having enough money to live comfortably in retirement'.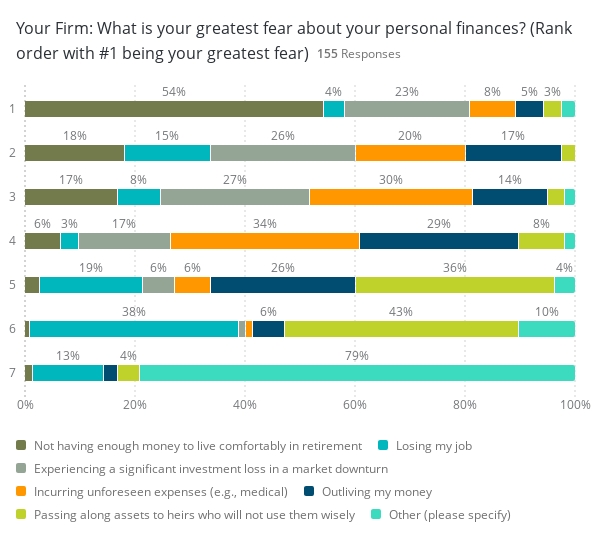 Given this, it's no surprise for us that many of the most popular blog posts on our website are case studies where we detail the retirement planning solutions we've created for clients:
It was similarly unsurprising that when asked, "What gives you the greatest comfort about your personal finances?", most respondents answered: "Having enough money to live comfortably in retirement."
Main takeaway: Comfort and confidence in your plan for the future is priceless given the alternative is ongoing background anxiety about personal finances.
Are we doing a good job?
The results of these yearly client surveys typically tell a financial planning firm one of two things:
They can highlight areas in which the firm is not performing well, and show them what needs to be done better when it comes to serving their clients.

They can show that the firm is performing at the level they aspire to and provide a benchmark from which to continue to elevate.
I'm pleased to report that we fall into Category 2 above. All our advisors received a rating that was higher than the average rating of the whole network of advisors whose services were being rated.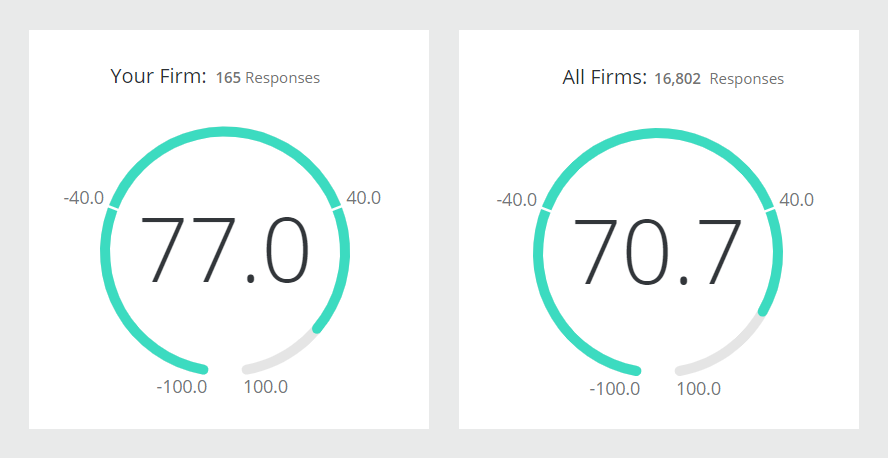 We will continue to work assiduously and with dedication to serve our clients to try and push our score higher each year, always inspired by the following types of feedback we received from clients last year when they were asked:

"What is the most valuable benefit you receive from your advisor?"
Comfort in the knowledge that I don't have to worry about my finances.

Knowing my financial position and being able to retire with peace of mind.

Confidence that he has our life goals foremost in his mind.

Ongoing beneficial advice that positively affects our future.

Knowing they have my best interests at heart.

The sound advice they hand out to us.

Trust and peace of mind.

Confidence and reassurance.

Good advice.

Trust.

Peace of mind.
Main takeaway: It's very satisfying for us to know we are reducing personal finance anxiety and delivering comfort and confidence to our clients. And we look forward to continuing to do so for all our clients for many years to come.